VSaaS is a cloud-based video surveillance service that allows customers to monitor their premises from anywhere in the world remotely. It eliminates the need for on-site storage and management of recorded footage, making it more cost-effective and easier to manage. VSaaS also enables real-time alerts and notifications, making responding to security threats promptly easier.
As the market for cloud-based VSaaS software platforms has grown, some telecom carriers have ventured into this competitive industry. This begs the question, what makes these carriers think they are the perfect fit to offer their customers cutting-edge surveillance solutions based on VSaaS?
More importantly, if telecoms can really become a major player in providing VSaaS solutions then why are only a few carriers stepping up?
This article will address this exciting topic. We will explore what are the biggest pain points of the video surveillance market, why telecom operators are in an advantageous position to offer top-notch surveillance solutions, and finally how easy it is for telecoms to generate revenue by leveraging modern cloud-based VSaaS software platforms.
What are the Biggest Pain Points of the Video Surveillance Market?
The B2B and B2C video surveillance market faces many challenges in today's ever-evolving technological landscape.
For instance, the biggest challenge facing the B2C sector is how overwhelming it can be to implement a video surveillance system. Whether it is a private home or a condominium, there are many variables to consider. How many cameras are needed? Where is the best location? What kind of aperture do the lenses require? For this reason, the ideal solution is to hire an expert service provider who takes care of everything so that end customers only have to pay the bill for the service each month.
A similar case occurs in the B2B sector. The complexity of implementing, maintaining, and troubleshooting a video surveillance system in shopping malls, office buildings, airports, and factories is considerable. We are talking about use cases that require tens or even hundreds of cameras. This involves dealing with scalability issues, ensuring software compatibility between different hardware vendors, ensuring the privacy of video footage, and more.
With the above in mind, could you think of anyone better to face these challenges than telecom carriers with their robust IT infrastructure? Telecoms have already invested in reliable data centers that have top-notch storage solutions in which they can store video footage, high-performance networks that can transmit video cameras streams, strong cybersecurity to protect customer data, and high scalability that allows them to grow their B2C and B2B clientele
Ironically, for telecom carriers, the shift towards software-based Video Surveillance as a Service (VSaaS) platforms can be a challenge by itself. The reason is simple: embracing the cloud can be challenging.
As a solution, a prospective approach might be to provide VSaaS in collaboration with a software platform vendor.
Simply put, what every telecom carrier looks for when diversifying into a new business area is to take advantage of its resources and strengths. That is only possible by partnering with VSaaS software providers that help them meet customer expectations.
Furthermore, it is essential to have a partner who understands the complex landscape of VSaaS, where there is a growing demand for artificial intelligence (AI) and machine learning (ML) capabilities that allow offering innovative services such as accurate facial recognition and threat detection, cross-line detection, smart notifications, people counting, visitor counting, smoke and fire detection, and more.
In short, the fastest and most efficient way for telecoms to enter the VSaaS market is to find a partner that has an easy-to-use platform that allows them to create their own video surveillance solution.
Telecom Operators and VSaaS: The Perfect Match
Telecom carriers are well-positioned to serve their customers with cloud-based VSaaS platforms. A key reason is that they have the necessary infrastructure and technical expertise to manage cloud-based systems effectively.
However, there are also other compelling reasons worth exploring further.
Why Should Telecom Operators Launch a Video Surveillance Service?
A recent study by McKinsey shows how despite making huge capital investments to enable 3G and 4G technology, Telecom operators have created less and less value in the last decade. In the same study, 77 percent of the CEOs surveyed stated that their companies have been diversifying into new sectors to cope with this situation.
Unsurprisingly, one of these sectors is cloud-based VSaaS services.
By leveraging VSaaS platforms, telecom operators can offer a range of value-added services, such as video analytics as a service, smart intercoms, just to mention a few. These services can generate new recurring revenue streams while providing their customers with state-of-the-art surveillance solutions.
Let's explore some of the alternatives.
Subscription-Based Services. Offering subscription-based services is one of the best ways telecom operators can create new recurring income streams. For example, telecom operators can provide their existing subscribers with video surveillance solutions as an add-on to their current services, including internet or cable TV plans. That way, operators can increase customer retention and loyalty rates while creating additional income streams.
Pay-Per-Use Models. Under this business model, B2C and B2B users only pay for the service on demand. For example, a retail store can contract this type of plan during the vacation period to ensure redundancy and protect the premises. One advantage of this model is attracting customers who do not wish to sign up for a monthly or annual subscription.
Partnering with Other Businesses. Telecom operators can create new recurring revenue streams by working with other companies. Operators, for instance, can collaborate with security integrators or installers to provide consumers with a comprehensive surveillance solution. Through referral fees or revenue sharing, this partnership may enable operators to provide a more comprehensive service.
Overall, VSaaS offers telecom operators a unique opportunity to generate new recurring revenue streams while providing cutting-edge surveillance solutions to their customers.
Furthermore, from a strategic point of view, telecoms also seem to be the perfect match to launch VSaaS solutions, as we will explore below.
Why Telecom Carriers Are the Best Fit to Offer VSaaS Services to Their Customers
If you are a senior telecom executive, you may still have some doubts about entering the VSaaS business. If that's the case, think about the following. According to Marketsandmarkets Research, by 2027, the Global Video Surveillance as a Service Market will reach 7,6 billion dollars, growing at a CAGR of 18.0% during the forecast period.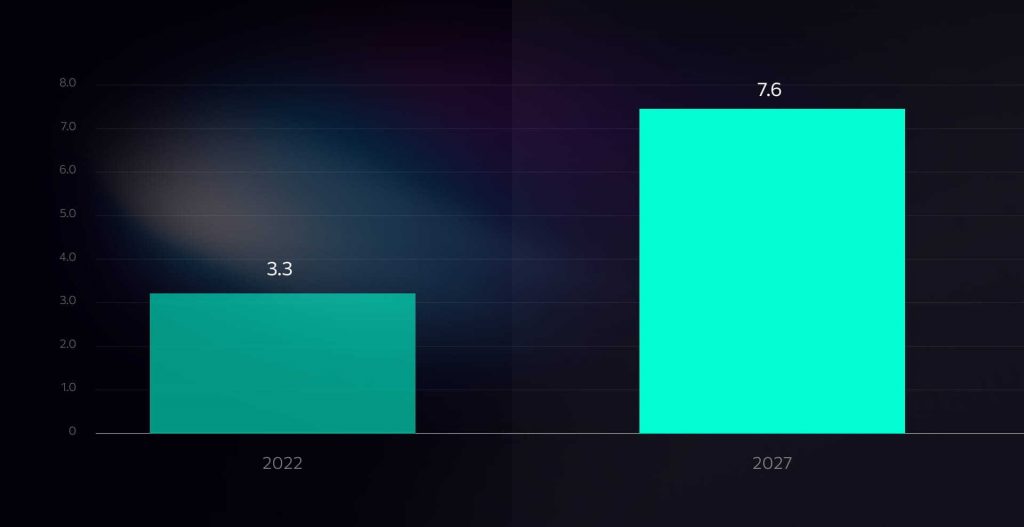 Now think about the competitive advantages that Telecom carriers have to enter this market.
Established Customer Relationships. The fact that telecom operators already have established customer relationships offers them an edge when introducing VSaaS solutions. This is because telecoms have a deeper grasp of customers' demands. Therefore, it's easier for telecom operators to provide new value-added services as customers are more likely to trust their current telecom carrier than a new provider.
Payment and Collection Operations are Already Set Up. Telecom providers already have a billing system in place, so adding an additional service to any current account is simple. As a result, customers can pay for the service more easily, and telecom carriers can receive money more quickly.
Service Bundling. As already mentioned, telecom carriers can add VSaaS solutions to their current services, such as internet, phone, or cable TV. That way, operators can increase client retention and create new recurring income streams by providing packaged services. For instance, telecoms could offer customers a home security package that combines phone, internet, and video surveillance services. This would give customers a complete solution that satisfies all of their needs.
Customization and Integration for B2C and B2B Customers. Telecom providers can use VSaaS platforms to provide specialized surveillance solutions that address the individual requirements of their B2C and B2B subscribers. Operators can deliver a seamless end-to-end solution by collaborating with a leading VSaaS provider such as Aipix to integrate their current infrastructure with the platform's cloud-based video surveillance service. Operators can also alter the features of the platform to match the particular needs of their subscribers, for as by integrating extra cameras, storage, or analytics.
This last point, partnering with a reliable VSaaS solution provider, is key when entering the video surveillance market, as we will see next.
Quick VSaaS Launch for Telecom Operators With Aipix Telecom VSaaS Platform
While telecom carriers have extensive cloud infrastructure, established processes, and a deep understanding of the needs of their B2C and B2B customers, they lack a crucial ingredient, expertise in VSaaS platforms.
This is where Aipix Telecom VSaaS Platform can make a difference. Aipix as an extremely powerful platform based on the core principles of SP-grade and large-scale solutions offers unique benefits to telecom service providers, such as:
Fast deployment to market thanks to out-of-the-box VSaaS solution

White Label solutions

Automated camera provisioning

Multitenancy

Innovative smart security services

Unlimited scalability and high reliability

AI-based video analytics as an additional service

Unified dashboards

Hybrid cloud as well as private or public cloud deployments

No vendor lock-in since the platform is compatible with any IP camera

Powerful API integration.
In short, thanks to Aipix, telecom carriers can offer:
Cost-Effective Solutions

. By eliminating the need for on-premise hardware and maintenance costs, software VSaaS platforms allow telecom operators to offer their customers lower-cost surveillance services.

Scalability and Flexibility

. Software VSaaS platforms are highly scalable and flexible, allowing telecoms to adapt to changing customer needs.

Enhanced Security Features

. Software VSaaS platforms offer innovative features such as advanced analytics, with real-time alerts , smart intercom services and more.

Easy-to-deploy Platform

. Telecom carriers can set up VSaaS solutions quickly and efficiently. This allows operators to offer cutting-edge surveillance services to their customers without a significant investment in time or resources.

Multitenancy

. Enable end-users to have full control over their isolated video surveillance system, served by the Telecom SP.

Out-of-the-box Solution

. Leading companies in VSaaS solutions, such as Aipix, offer partner programs that allow telecom carriers to get started quickly with an out-of-the-box solution. This allows telecoms to focus on providing high-quality services to their customers.
All in all, Aipix VSaaS Platform will help you to get the right answers to your questions. Aipix Platform allows telecom carriers to launch their own value-added services and generate new recurring revenue streams. Moreover, our scalable and flexible solution ensure your services can grow with your customers.
Head to our blog now and learn more about how Aipix Telecom VSaaS Platform can benefit your telecom business.